Deontay Wilder is maybe one of the most questioned boxers in the sport right now.  His resume is average at best and his boxing prowess has thus far appeared limited.  But what he seemingly lacks in technique, he more than makes up for in raw power.  To put it simply, Deontay Wilder is what happens when you prioritize commitment to punching power over everything else.
You can't have a conversation about Wilder without bringing up how sloppy his fundamentals are.  Here is a clip of him against Ortiz.
Now while the right hand does land, look at how off balance he is afterwards.  All the weight is on his front foot and he is not in position to do anything but stand there with his dick in hand.  Wilder should consider himself #blessed the right hand stunned Ortiz here because he now has time to reset and make a decision on what to do next instead of eating a punch totally unguarded.  Most boxers would use this opportunity to compose, and maybe follow up with a a clean combo… Not Wilder.  He literally runs toward his opponent, entirely drops his left hand guard and throws a right I'd expect from a drunken bar bro looking to sucker punch someone.  It to rocks Ortiz, and like most boxers would, he throws another punch, a left hook (if you can even call it that).  This punch does not connect and Wilder again is left totally off balance, damn near spun around in the opposite direction.  Fortunately the rights did their job and Ortiz is out, but without the power, in just 15 seconds Wilder left himself 100% vulnerable.
Does any of this matter? Well the boxer in me wants to say yes, but honestly I just don't know anymore.  Wilder has made an entire career weaponizing "punchers chance".  His defense is opponents simply knowing they can not take that right hand, guarded or not.  If the right hand of Wilder comes looking for you, it's best just not to be there when it shows up.  Where does this otherworldly power come from? Well it's essentially the product of Wilder sacrificing every ounce of traditional form and committing everything to the right hand.  Seriously, get yourself a partner that commits like Deontay throwing right hands.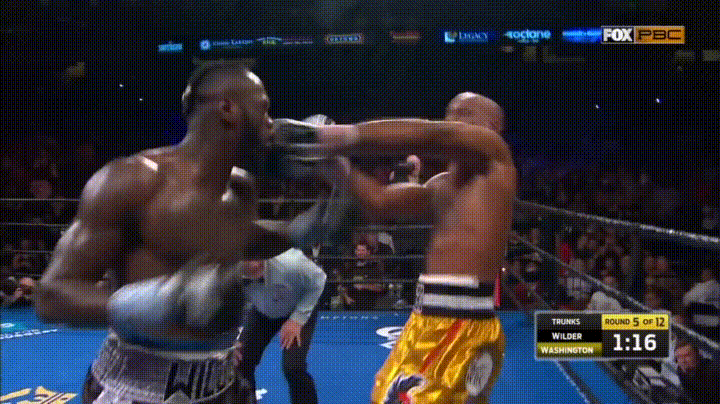 I have never seen commitment like this, and I am a married man.  Everything Wilder has is in this punch.  Wilder would have fallen over if the ref wasn't there to linebacker him into the corner.  We could go on for days about how terrible this strategy is and how vulnerable it leaves him when he misses, but lets instead indulge our bloodlust and take a look at what happens when he doesn't miss.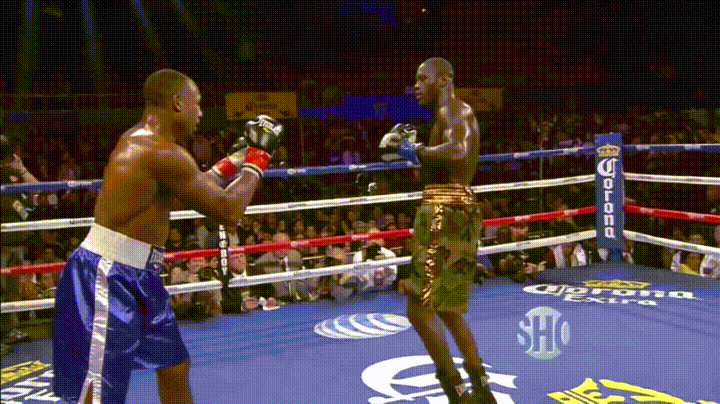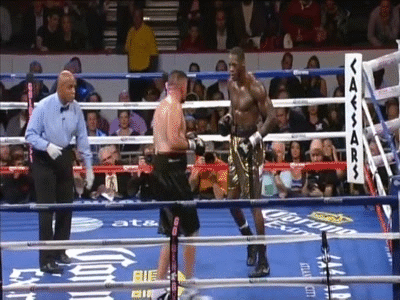 Each punch here when missed leaves Wilder open to get knockout but fighters simply can't chance eating a right hand with 225 lb's fully committed to it.  Could a better caliber fighter do something about this? Maybe, and hopefully soon Anthony Joshua will answer that for us but until then, I think Wilder continues to intimidate and destroy with his power.  Regardless of what you make of Wilder, his boxing skill and his resume to date, there is no doubt the man puts on entertaining fights.  So while I do question how he fares against the elite, I know for damn sure he puts on one hell of a show.
https://pinkjumpsuitboxing.com/wp-content/uploads/2018/05/DEONTAY-WILDER-WEIGH-IN-01152015-9717-720x480.jpg
480
720
p1nkjumpsu1tb0x
https://pinkjumpsuitboxing.com/wp-content/uploads/2015/04/cropped-twitterbanner1-300x108.png
p1nkjumpsu1tb0x
2018-05-03 02:30:26
2018-05-03 02:37:00
Quick take: Deontay Wilder and a Commitment to Power